It all began with a lettering obsession
OK, so I'm going to start this post by letting you know that I am not very woo. At all. But recently, I've been reflecting over my life and wondering if the Universe was telling me all through my life that I was meant to work with typography / lettering in some capacity. I'll tell you why…
1. It didn't matter what I was writing, it HAD to be neat
As a child, I had a huge obsession with how neat my handwriting was. Letters had to be the same height, spacing had to be right. I distinctly remember my Dad was the same and, when I was about 7, he bought me squared paper to practice writing on so that I could get my letters as uniform as possible.
2. Not quite calligraphy, but I was all about the slant
I have a few different styles of 'natural' handwriting (I also have many styles of calligraphy that I offer my clients!) but the one thing they all have in common is a consistent slant. The handwriting style I use most is an italic style, and I have drilled and drilled to ensure the angle is the same every time. It's made learning calligraphy much easier I must admit!
3. You were watching the film / TV programme intro? I was checking out the fonts!
It doesn't matter which kind of media I am absorbing at any time, you can guarantee I check out the typography first. I try and take mental photographs (if I can't legally take physical ones) of different letters of the alphabet. I have an instagram collection for every letter of the alphabet and just love flicking through it. I adore the fact that there are countless ways to display each.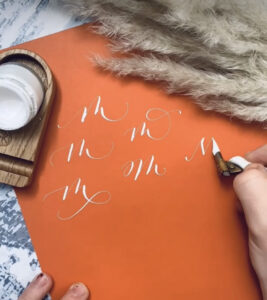 4. I always longed to be good at art
I always found art so relaxing, but I wasn't very good at traditional art at school so dropped it as soon as I could. But I always felt like something was missing.
5. I did all my own wedding stationery – even though I had zero skill at the time
When it came to planning my own wedding, I wanted to have full creative control and had a vision of how I wanted everything to look. Each table was named after our favourite pubs, so I bought mini chalk boards to display the menu / table name and then hand lettered my table plan on an A1 chalk board. My Grandma and Mum made jam as favours, and I spent hours designing the labels and then hand stamping guests names on brown kraft tags that I tied around each.  I know that my wedding stationery would look very different now, but I was so proud of it at the time!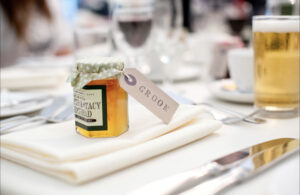 It's pretty clear to me now that I was NOT meant to work in the corporate world. I think, looking back, I just didn't realise that my obsession with lettering and typography could be anything more than 'just having nice handwriting'. I'm so happy to be where I am now, creating wedding stationery that is FAR better than my own and bringing the joy of calligraphy to others. Listen to the Universe people. End of Woo (for now)….